Prof. Hristo Hristov, Dsc.
Prof. Hristo Hristov is the author of the project for the opening and establishment of the European Polytechnic University and is its first rector. He was born on March 7, 1939. He graduated with honors as a telecommunications engineer from the Sofia Institute of Mechanical and Electrical Engineering (1962). He has a PhD from the Moscow State University of Transport. He is a professor at the Technical University - Sofia. where he also defended the scientific degree "Doctor of Technical Sciences". His research interests are related to highly responsible telecommunications, security systems, reliability and security of communications and more. He has lectured at 5 universities in Bulgaria and abroad.Prof.Hristov has published of over 320 scientific articles and reports in 16 countries. He is the author and co-author of 31 books, textbooks, monographs and reference books. He was dean of the Faculty of Radio Electronics. Deputy Minister of Higher Education and Executive Director of the National Accreditation Agency. Prof.Hristov is a holder of university and state honorary titles and awards.
Assoc. Prof. Plamen Vatchkov, PhD
Assoc. Prof. Vatchkov graduated the Moscow Power Institute in Industrial Electronics. In 1977 he received a PhD from the same institute and in 1986 as been elected for assoc.professor. He specialized in the field of Microprocessor devices - France, in Management – USA and in Quality Management - Japan.
His professional carrier has started as Research fellow in the Institute of Technical Cibernetics and Robotics of the Bulgarian Academy of Science. Then he has been managing the greatest state company for Microcomputers and reached the position of Chairman of the State Agency of Information Technologies and Communications.
Currently Assoc.Prof. Vatchkov is a Member of the Balkan Academy of Science and Culture, a Full member of the World Science Academy of information security and a Member of the Academy Council of the European Polytechnical University.
Markus Körner
Mr. Körner is an energetic, interdisciplinary entrepreneur between business and science.
As the founder and managing director of two companies, Mr. Marcus Körner is still actively involved in the care of patients with intensive care and ventilation, which is especially relevant in the conditions of the Covid pandemic. Despite his entrepreneurial responsibilities, his professional commitment was not neglected either. Thus he founded the first independent practice in the field of respiratory therapy. With this project, patients are treated with respiratory therapy faster and more effectively in the outpatient sector. Within this project, fundamentally new issues and approaches in the field of respiratory therapy have been developed. The effect of the project works has a positive effect, which is expected to have international recognition.
Mr. Körner is also one of the co-founders of the DQNI Institute, which runs on a voluntary basis to promote quality in outpatient care.
Emeritus Professor Anthony Grenville Shannon
Emeritus Professor Anthony Greville (Tony) Shannon was born in Mosman, Sydney, on 30 September 1938. His employmenthas included school teaching in Sydney and London, the Royal Australian Navy, and as a mathematician in universities (mainly the University of New England and University of Technology, Sydney, where he was the Foundation Dean of the University Graduate School) and hospitals (Prince of Wales Hospital, Randwick, and the University Hospital, Cardiff, Wales). Other professional experience has included the Australian Council for Educational Research in Melbourne, and as an Australian Research Council Industrial Fellow with the TCG Group of Companies in Sydney.
As well as being educated in Sydney (first degree), Oxford (post-doctoral), and Cambridge (WHO Scholar), his academic visits have included Universidad de Navarra, Pamplona, Spain (1981), Hong Kong Polytechnic University (1997,2001), UCLA (1975), Campus Bio-Medico, Rome (1995) and Pontificia Università della Santa Croce (PUSC), Rome (1998, 2002), a Patron of the Foundation of the PUSC, Staff Seminars at Department of International Relations Istanbul Kültür Űniversitesi, Turkey (2009), and Department of Mathematics & Computer Science Seminar, Bahçeşehir University, Istanbul, Turkey (2009), and Harvard (1994, 2009, 2010).
Emeritus Professor Anthony Greville (Tony) Shannon first began visiting Central and Eastern Europe in 1963. Then for an Australian it involved going through "Check-point Charlie" in Berlin, followed by long train journeys with frequent demands for passports, visas and other identity papers. His most frequent destination has been Bulgaria with nearly twenty trips to that beautiful country.
Jointly with prof. Krassimir Atanassov they are published 15 scientific books.
Eric Schöne M.A.
The European Polytecnical University honors a deserved man who, despite his numerous entrepreneurial and research activities, has contributed a lot for the prosperity and popularization of the University mission.
As a senior executive as well as founder and managing director of two companies and managing director and shareholder of further corporate holdings, Mr. Eric Schöne M. A. has consistently proven himself over the past 20 years in his complementary university education in several disciplines as well as his research collaboration both at the chair of a university and in the entrepreneurial development of research artefacts for their market implementation.
Mr. Schöne also indispensably pursues, both in his profession and in his voluntary activities, the question of how people with high and borderline talents can bring their abilities into advisory and entrepreneurial processes and, both as an expert member of the Royal Institution of Chartered Surveyors and an active member of the Association of Highly Gifted People in Germany e. V., tirelessly advocates the mindful integration of gifted people and their special abilities in the economy and in the companies.
Mr. Schöne contributes fundamentally new methodological approaches, using mental techniques for concrete decision support and for solving abstract and highly complex economic issues. In times of increasingly dynamic changes in working environments and more complex questions in highly volatile economic scenarios, the significance of this research work is only just beginning to be recognized and will hopefully have a major international impact.
Therefore the European Polytechnical University awards the title Doctor Honoris Causa to Mr. Eric Schöne M. A. for his synergetic approach to the scientific research and the entrepreneurial thinking.
Heinrich Hartmann
Heinrich Hartmann is an energetic, experienced and successful entrepreneur as well as a committed "doer" at several, mainly non-profit, foundations in Germany.
He had an extraordinary career in the banking sector: from trainee to member of the board of directors. For many years, he has been increasingly involved in foundations on a voluntary basis in order to "make the world a little better" within this framework, to give something back to the world and to realise good causes within the framework of the respective foundation statutes.
Mr.Hartmann seeks out and accompanies projects that promise good things for people and monitors their implementation. In addition, he accompanies many young people in their professional development by passing on knowledge and making recommendations. In his actions, honesty, openness and appreciation are always the top priority.
The European Polytechnical University awards the title Doctor Honoris Causa to Mr. Heinrich Hartmann for his contribution to promote the EPU mission in Germany.
Prof. Lyudmil Dakovski, Dsc
Prof. Dakovski is a famous Bulgarian scientist and university professor. Author of more than 200 scientific publications, including more than 160 scientific articles and reports, 22 monographs, books and textbooks, 27 inventions and 9 patents abroad (USA, Germany, UK, France) in the fields of: logic circuits, digital devices, microprocessor systems.
Prof. Dakovski has an international reputation and significant contributions in the field of computer science and artificial intelligence.
He has made an invaluable contribution to the work of EPU and his selfless support of our university is an example to all colleagues
Yuri Sokolov, PhD
Yuri Sokolov is an expert in the field of radio electronics.
He is the owner and Chairman of the Board of Directors of Incotex Group, which consists of five manufacturing plants in Russia and Bulgaria and several R&D units in the field of measurement systems, electronic commercial equipment and LED lighting.
Yuri Sokolov holds more than 200 patents, including Russian, US, European and others. He is the author of 10 scientific and technical publications.
Andreas Hanke
Mr.Hanke is the founder and managing director of his very successful real estate group, which gains respect beyond the national borders of Germany.
Mr. Hanke is involved in many social and sporting projects and is particularly committed to the university's social projects through a partnership.
He received special recognition from our faculty for building up his real estate and finance sectors and setting new standards in the marketing of his companies.
Sharing knowledge and information and answering our questions about entrepreneurial thinking will help us qualify our teaching content and set new standards.
Assoc.Prof. Alexander Yordanov, PhD
Assoc. Prof. Alexander Yordanov is a famous Bulgarian politician. He is a member of the European Parliament - member of the Parliamentary Committee on Foreign Affairs
Assoc. Prof. Alexander Yordanov is the author of books and monographs in the field of literaratute science: Characters and ideas (1986), In the Shade of Words (1989), The Return! (2006), "Lonely and dignified. Dr Konstantin Galabov - life, work, ideas" (2012); The Unknown Alexander Karamanov - poetry, essays, diary (2018).
He is also the author of over 250 studies and articles in the specialized literary press in Bulgaria and abroad. Participates with scientific reports in a number of international scientific conferences, including international congresses on Bulgarian and Slavic studies.
At the same time, he published books on social, cultural, historical and political issues: "Hope against timelessness" (1993), "Let's break the script!" (2006), "Blogo, ergo sum!" (2012), "Patriotic lessons" (2019), Ukrainian Notes (2020) and others.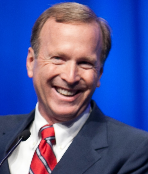 Neil Bush
Mr. Bush graduated from Tulane University with a bachelor's degree in international economics and from Tulane University's Freeman School of Business with an MBA. 
He is the third of five children of US President and Mrs. George H. W. Bush. 

Mr. Bush has been involved with energy, real estate, health care services and international business development for four decades beginning in 1980. He is the founder and chair of the George H. W. Bush Foundation for U.S.-China Relations. 

Mr. Bush is involved in philanthropy and charity volunteer work. He chairs Points of Light and serves on the boards of the Houston Salvation Army and the Bush School of Government and Public Service at Texas A&M University. In addition, Mr. Bush and his wife, Maria, chair the Barbara Bush Houston Literacy Foundation.
Andre Lienhard
André Lienhard MBA is President of the German aid organization "Deutsche Genossenschaft der Ritter des Internationales Konstantinerordens (OCM) e.V.", Bailie of the OCM of Germany and also a long-standing member of the Military and Hospitaller Order of St. Lazarus of Jerusalem OSLJ.
He is recognized as an outstanding personality, who has rendered great services to the younger generation and not least to international understanding in Europe.